The All-Star Celebrity Hash House Harriers
By Hops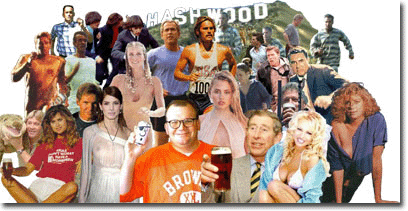 Sure, the hash can claim two male porn stars (Dave Cummings, aka "Captain Zero," and John Wayne Bobbitt, aka "A Stitch in Time Saved Mine," famous for having his penis re-attached after his wife snipped it off), but it has so far failed to attract mainstream celebrities. Perhaps the fact that the Beautiful People cherish their privacy and security explains their reluctance up to this point.

But establishing a celebrity-only hash may change a few things. Perhaps one day soon our pastime will have the scandal, gossip, and the slimy reputation it deserves. Hashing scouts have been dispatched to central casting to find possible recruits. The following is a preliminary report on their findings.
Harriers
No, Mr. Bond, I expect you to hash: Sitting in a Manhattan restaurant, Irish-born actor Pierce Brosnan ordered a Beck's beer. What? Not a vodka martini, shaken not stirred? "There are different drinks for different occasions . . . but beer fits almost any occasion, in my book," he told Maxim magazine.
Irish actor Colin Farrell was said to have described Carlsberg lager as "mother's milk." His penchant for Camel Lights, however, would limit him to hashing, rather than any serious athletic undertakings.
Harrison Ford appeared in a number of television and print ads for Kirin beer in the mid-1990s and has been seen tippling a few pints of bitter in suburban Washington, D.C.'s Capital City brewpub as well as London's Fox and Hounds. Actor Russell Crowe of New Zealand has been spotted sipping both Guinness and Shiner Bock.
When Hollywood stars Ashton Kutcher and Johnny Knoxville were spotted drinking Miller Lite at parties, the Miller Brewing Company reportedly rewarded them by sending them more Miller products than they can drink (personally, one Miller product is more than I can drink). Knoxville already comes with the hash-sounding nickname, "Jackass."
Comedian Jerry Seinfeld has been observed pint-in-hand at Washington's preeminent beer bar, the Brickskeller. It doesn't really matter whether he'd run trail as long as he'd agree to run the circle.
In his 1977 documentary Pumping Iron, Arnold Schwarzenegger declared, "Milk is for babies. When you grow up you have to drink beer." With that attitude, the R*nning Man would make a good hasher. But would California's gubernatorial election have turned out differently if he held up the hashit while admitting, "I have behaved badly?"
American actor Will Ferrell of "Saturday Night Live" on the other hand, just might be an over-achiever. He ran the New York City Marathon in 5:01:56 and the Stockholm Marathon in 4:28:22. Not bad, but how fast is he at down-downs? English actor Jason Flemyng (Lock Stock And Two Smoking Barrels) ran the 2003 London Marathon, but he says that the Castle in Battersea is his favorite pub because, "It has great food and beer," so he could be hasher material.
Harriettes
Certainly, no celebrity hash would be complete without lovely harriettes.
Three-time Canadian synchronized-swimming champ-turned-supermodel and movie star Estella Warren told Maxim magazine, "I'm Canadian, so I do drink beer." American movie star and former bartender Sandra Bullock seems like she'd be a fun person with whom to share a beer. If you bump into her at a hash apres, remember that she prefers Heineken and Rolling Rock.
Canadian Pamela Anderson owes her discovery to beer. Sporting a Labatt's Beer T-shirt while attending a British Columbia Lions football game in 1989, her image was projected on the stadium's wide screen. The crowd went crazy and she was brought down to the 50-yard line. This led to an advertising contract with Labatt's, and the rest is history. Does she actually drink beer? Who cares!
American supermodel-turned fashion executive Kathy Ireland is a different story. Not only does she drink beer, she actually brews it at home! Ireland has even appeared on the cover of Zymurgy, a magazine for homebrewers.
On-In!
But what about after the hash? Where will the après be held? American film and stage star Kelly McGillis (Top Gun, Witness) owns Kelly's Caribbean Bar, Grille, & Brew in Key West, Florida. Better yet, fellow Top Gun cast member Tom Skerritt owns the Crested Butte Brewery and Pub in Colorado. Go ahead, make my beer: Clint Eastwood owns the Hog's Breath Inn located in Carmel, California. One of the beers on tap is Pale Rider Ale, which borrows its name from the 1985 Western.
. . . We'll Call You
There are certain personalities who did not make the cut for the all-celebrity hash casting call:
Oscar winner Ben Affleck started out sounding like a promising prospect for the hash. He ran twice a day to prepare for various roles and even had advertisements lined up for Samuel Adams beer. But when he checked himself into rehab for alcohol abuse in 2001, the Boston Beer Company pulled the plug on the advertisements.
Mel Gibson was reportedly a Victoria Bitters (VB) enthusiast but has in recent years retired his drinking arm.
Australian Crocodile Hunter and one-time Aussie football player Steve Irwin is also a bit of a disappointment. He appeared in a Powers Bitter beer commercial, which led to his gig as the Crocodile Hunter. According to Irwin, he had been "hard on beer" until meeting his wife Terri. Screw up one more time with the baby, Steve, and a wife won't be standing in the way.
If Mark Wahlberg, star of the Planet of the Apes remake shows up at your hash, don't stand in the way of the beer. Admittedly, he was only 16 at the time, but in 1988 Wahlberg spent 45 days in jail for beating two Vietnamese gentlemen in an attempt to steal their beer.
Public Officials
See you at the beer check: her majesty Queen Elizabeth II actually helped mash in the grains during the production of The Queen's Ale (No. 1 barleywine) during her 2002 visit to the Bass Brewery. Another batch was designated The Duke's Ale, for Prince Phillip. Incidentally, for a mere £150, you can get one pint bottle of each. For more information, go to http://www.royal-ales.com/.
FRB-in Chief: George W. Bush ran a three-mile race in 20:29, a 6:45 per mile pace in 2002. He also ran the 1993 Houston Marathon in 3:44:52. Clearly, Bush rates as America's fastest president. Despite his speed, Bush could have had a fine hashing career if only he hadn't given up drinking in 1986. The American president might also be too competitive to fit in with the hash. When "Tonight Show" host Jay Leno in 2000 asked candidate Bush who would win in a footrace between he and Al Gore, Bush replied, "I'd be willing to put it ALL on a footrace."
In fact, Gore is slower. He finished the 1997 Marine Corps Marathon in Washington in 4:58:25. But Gore's no quitter: Capitol City brewpub's head brewer Bill Madden reports that when he had his photo taken with Gore, the American vice president had a Rodenhauser Keller Pilsener in hand.
It wouldn't be difficult to guess the public official most naturally suited to hashing. Former U.S. president Bill Clinton is a slow runner, drinks beer, and has been known to flirt with bimbos. And it's not exactly if he's a total stranger to hashing; while governor of Arkansas, Clinton reportedly crossed paths with the Little Rock Hash while out for a jog.
According to the initial scouting report, the celebrity who would make the very best hasher is Homer Simpson, who tragically exists only as a cartoon. But do not be discouraged, the search for hash talent continues.
Other Famous Hashers?
The Indy Scent HHH have already made some nominations.
Not to be outdone, the Edmonton HHH has compiled their own star-studded list.
What Do YOU Think?
What celebrities would you like to invite to the hash, and why? Do any hash names come to mind? Are there any well-known personalities that you'd hate to see show up at a hash? Do you know of any celebrities who have already hashed?


The All-Star celebrity Hash House Harriers © 2004 by Jay "Hops" Hopkins
http://www.half-mind.com